Nutra Glo for Deer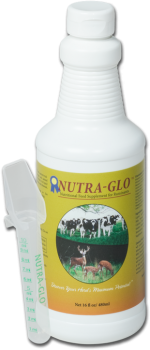 16oz = 1 mo. supply for 16 fawns
Title:
Nutra Glo™ for Deer 16oz
Nutra-Glo™ for Ruminants is a nutritional feed supplement recommended for deer, elk, and all other ruminating (cud-chewing) animals. The product comes in liquid form and contains a combination of bio-available vitamins and minerals, organic chelates, and probiotic metabolites.
For more than ten years this product has stood strong and tall in the whitetail industry and has helped hundreds of deer breeders achieve new levels of herd-health, production, and overall success (see testimonials). It improves the nutritional value of the animal's diet, improves digestion, and improves its microbial health. This helps to more properly nourish the animal, and every organ within its system, including the heart, liver, and lungs. It also improves the health of the uterus, overies, folicles, and embryos...ultimately this healthier doe gives birth to healthier fawns, and as documented repeatedly (in our dairy trials), mothers give more milk and better milk.
Meanwhile the bucks bedded in the shade are chewing their cud and equally benefiting from improved nutrition, improved digestion, and improved circulation. This helps them grow more antlers and build stronger defenses against infection, pneumonia, foot problems, and other diseases.
Sick or underweight animals and slow appetites:
The dosage has also been doubled and tripled for sick, underweight, or slow appetite animals with (as reported) super results! A very high percent of deer farmers notice significant improvements in the over-all health and performance of their herds, including...

Hair Coat
Body Weight
More Active Deer
Less Pneumonia
Overall Health
Appetite
Digestion
Size of Yearlings
Wt. of Nursing Does
Conception Rates
Fawn Health
Less Diarrhea
Immune System
Antler Growth
And more...

Now Available at Over 500 Locations in the U.S.
Cost Breakdown:
Fawns - 4¢-5¢/hd/day
Mature Whitetails - Approx. $30/hd/yr.
Elk - Approx. $45/hd/yr.
Directions for Use:
1. Shake well before using or diluting.
2. Apply directly to feed at the rate given below.
3. May be top-dressed, mixed into complete feeds or given orally.
4. When applied to bulk ration: The calculated dosage may be diluted with 3-4 times as much fresh, clean water. Slowly add diluted product to ensure uniform coverage and thorough blending. Treated ration should be used within 3-4 weeks.
5. Only dilute the amount of Nutra-Glo™ to be used immediately. Do not store diluted product for use in later applications.
Compatability:
Nutra-Glo™ is compatible with standard vitamin/mineral or probiotic (live microbial) supplements. It can be pre-mixed with these ingredients prior to applying to the complete feed.
Storage:
Store at room temperature between 40°F (5°C) and 100°F (40°C). Avoid freezing. Do not store in direct sunlight. Keep container sealed when not in use. Keep out of reach of children.
Guaranteed Analysis:
Minimum Crude Protein

6.5%
Minimum Crude Fat

0.2%
Maximum Crude Fiber

1.0%
Calcium (min)

0.15%
Calcium (max)

0.30%
Copper (Cu) min.

2500 ppm
Selenium (Se) min.

45 ppm
Zinc (Zn) min.

2200 ppm
Iron (Fe) min.

5200 ppm
Manganese (Mn) min.

1200 ppm
Iodine (I) min.

75 ppm
Maximum Ash

6.0%
Minimum Dry Matter

19.0%
Vitamin E min

160 I.U./lb
Vitamin B12 min.

1700 mcg/lb
Riboflavin (Vitamin B2) min.

500 mg/lb
Thiamine (Vitamin B1) min.

270 mg/lb
Niacin min.

1200 mg/lb
Vitamin B6 (Pyridoxine) min.

1200 mg/lb
Ingredients:
Liquid Lactobacillus acidophilus Fermentation Product, Dry Kelp, Ferrous Sulfate, Manganese Sulfate, Zinc Sulfate, Niacin, Calcium Propionate, Copper Sulfate, Alpha Tocopheryl Acetate, Sodium Benzoate, Riboflavin, Pyridoxine Hydrochloride, Thiamine Mononitrate, Potassium Iodide, Sodium Selenite, Vitamin B12 Supplement.

Discover Your Herd's Maximum Potential!™